Our Of






fering

25 years of combined Banking, Investment and Commerce & Industry search experience.

Average of 5 CV's sent per placement we make on a search, this is unique within the space which we operate.

Excellent contractor management systems working with top external companies providing checks at all points in the process for both candidates and clients.

Senior focused hiring, minimum of £250 per day for our contractors and £40,000 for our fixed-term and permanent hires.

We operate a strict search team for each mandate: Director, Consultant and Researcher on each project.

It's important we advise our clients as experts in the market – Compensation, competitor hiring, people moves etc.
The Benefit To Our Clients

Providing in-depth sector experience and track record for our Clients.

We would save the client huge amounts of time during recruitment by providing a short list, regardless of level.

We build long term relationships with our contractors based on technical know-how and time-sheet management.

Stand alone Interim Desk that partners with all other established Arkesden teams, mirroring their ethos.

Clients benefit from our focused resource capability and consistent mapping of the Banks and major Commercial organisations.
We genuinely source senior Change & Finance experts always referencing and finding the top contractors.
Clients gain a focused team with senior experience as a project lead.
We bring value-add to the relationships we develop.
Our COVERAGE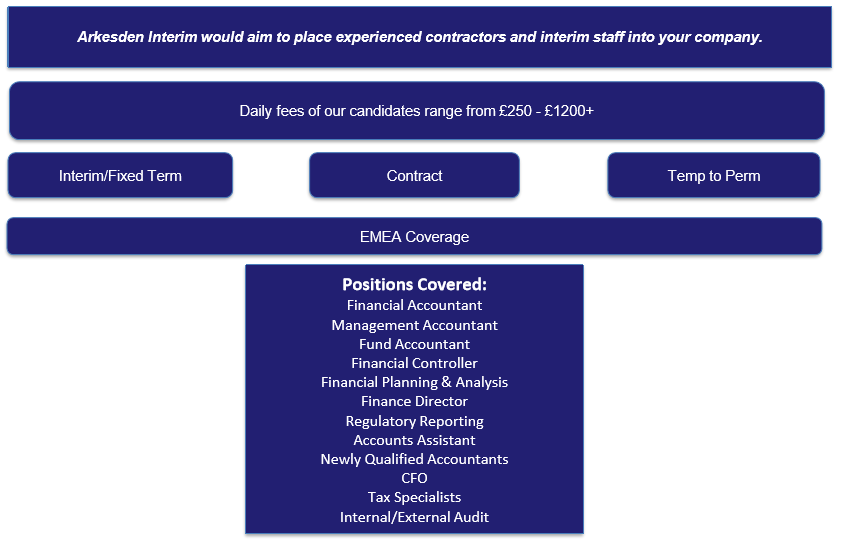 Careers

We always on the lookout for people to join our business.
If you'd like to know more about the opportunities we can offer please call us on +44 (0) 203 762 202 5